Boarhills church – Proposed Garage
Line of Sight & Existing Culvert
Boarhills Church was an existing client of ours and when they approached us about helping out with a New Proposed Garden Room & Garage we were delighted. Knowing the site, we knew there would be some challenges, one being the existing culvert that runs through the proposed site and the second being the proposed new building roof height, the proposed new roof height could not encroach on the visual line of site from the roadside pavement to stone wall of the front graveyard of the converted church. The proposed site of the existing car park lay in a hollow, making it difficult to form a driveway from the site access down to the proposed garage. We started of with an aerial survey to produce a topographic map and point cloud, from this information we were then able to show a section through the site using AutoCAD and then add in the garage section to show the roof top in relation to the line of site from the pavement over to the stone wall of the front graveyard. This allowed us to position the proposed building as to not block the line of sight.

Existing site section in our point cloud from the aerial survey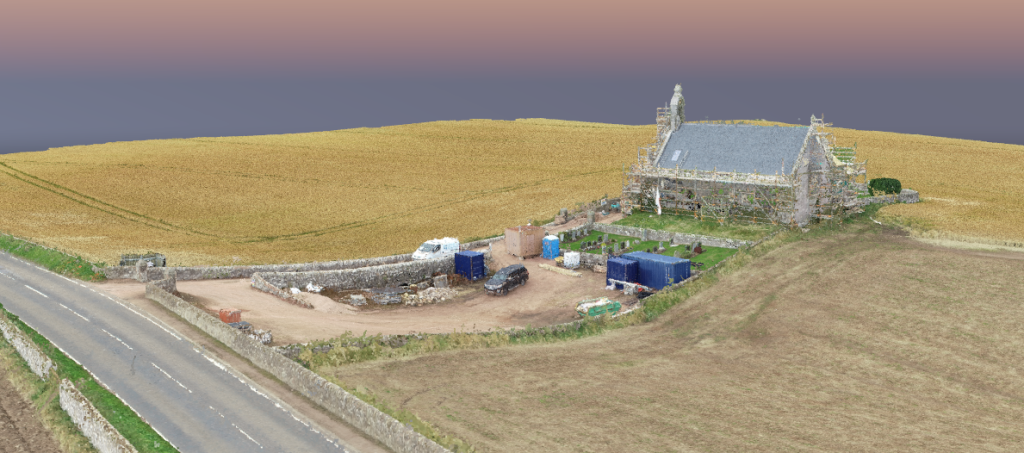 Existing site displayed in our point cloud from the aerial survey

From the levels extracted from our point cloud, we were able to take a closer look at the position of the existing culvert which runs through the site, the position of the culvert didn't run where it was first thought to be, after the culvert was exposed, working along side the appointed structural engineers, we were able to plan where the strip foundations could be positioned to keep the building in the correct position so that the line of sight would not be affected. The engineers were able to use our data to take a closer look at all the surrounding areas and levels and put together a design that would both suit the proposed roof height and the position of the garage in relation of the existing culvert, a proposed new foul drainage line was designed for the proposed new building back to the existing treatment plant.