Belliston Quarry is run by a local family business, we were hired in to help with completing several volume calculations and comparing the outputs that were recorded over the weighbridge against our calculations from our aerial survey.
In the past there were times that the client could not agree with the differences of the volume of stone blasted and crushed into it's final form. When the stone was multiplied by the density factor to convert to tons, it appeared short of the quantity expected after being recorded over the weighbridge by between 20-25%. From our survey we were able to calculate the following: Existing blast hole was 7000m3, on record it was thought that 4112m3 had been extracted from the blast hole, once we had carried out an aerial RTK survey and processed our data, we were able to confirm that there was still 3000m3 still to be extracted from the blast hole. With this information we were able to confirm that our clients measurements were accurate, only a difference of 3.7% was recorded. With this information our client was able to confirm that their methods of measuring stock were accurate. This meant they could be certain that during disputes it was not their own calculations that were inaccurate.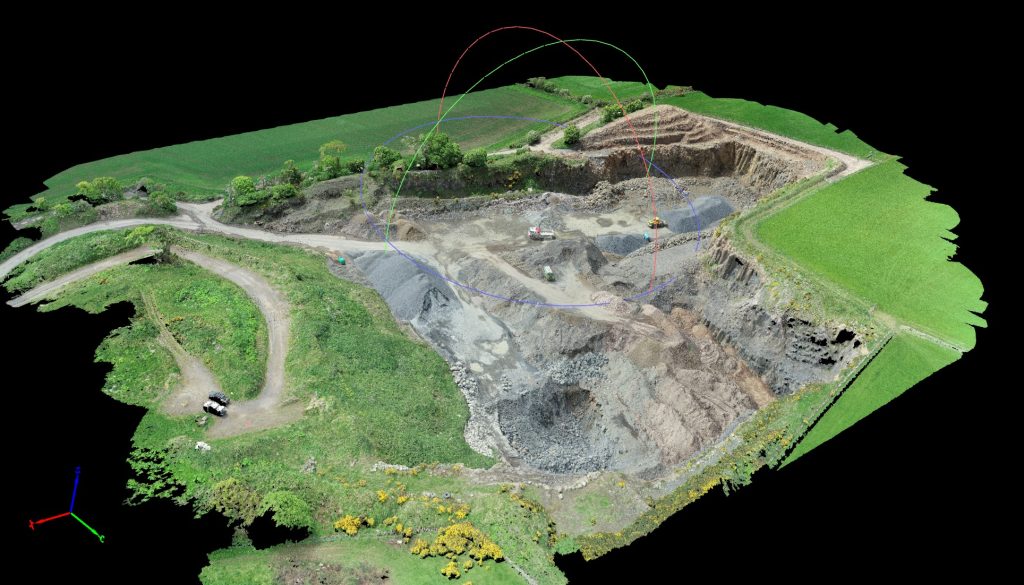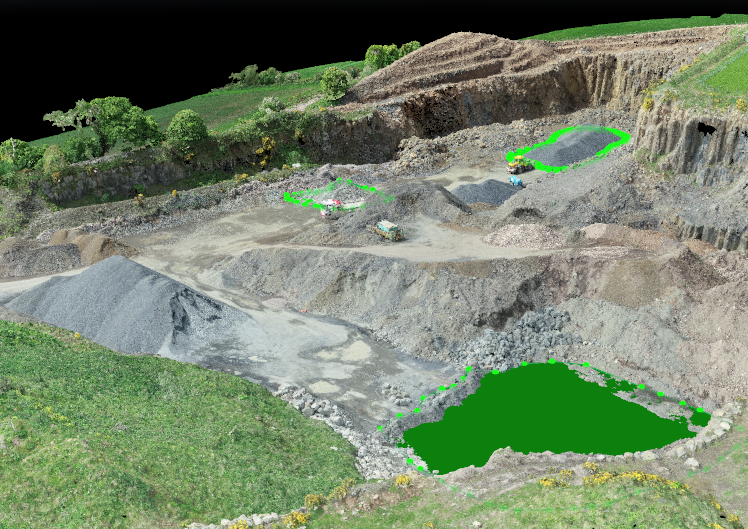 Also from our processed data, we were able to confirm the stockpile volume of the unwanted fill, allowing the client to manage their reinstatement plan with more accuracy, this in turn allowed the client to set aside areas for smaller, closer stockpiles, saving time and money with no double handling of materials.
An aerial map was provided of existing stockpiles within the quarry, their relevant volumes were annotated to each pile for record keeping. From the 3D point cloud model that we provided, the client was able to view multiple sections of their quarry giving them a better understanding for planning their next area of extraction and reinstatement. Minimising the movement of materials.
We were able to annotate on the orthomoasic photo produced from our aerial survey where the locations of all the vent shafts were within the reinstated landfill sections as well as their height for good recording keeping and SEPA inspections. A scaled orthomosaic image, topography and a physical 3D printed model were provided to the client for future records and planning.
We also recorded some footage that was used to create short video clips for marketing purposes.

Recently in 2022 we were again contacted regarding our ongoing monitoring project at Belliston Quarry, where we would be completing an additional aerial survey.
This survey would be used to create an updated model of the quarry due to the changing stockpiles, as well as new areas that had been excavated.
Once again we produced an orthomosaic image annotated with existing stockpiles and their relevant volumes as well as vent shaft locations within the reinstated landfill areas for our client's records.
As well as this, we also produced an updated AutoCAD map of the quarry and provided our client with a new 3D printed model.