Volumetric Calculations
Volume calculation and quantity surveying using drones is a reality
of the now, not a futuristic dream.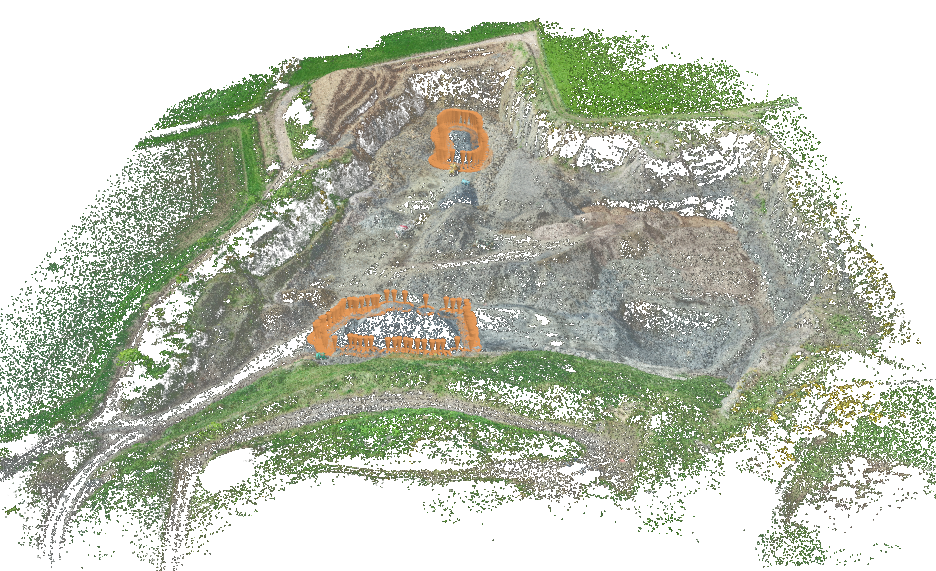 Calculating volumes was once a time consuming task for surveyors but now with the use of drones we can greatly reduce the time required to survey the volume of a stockpile.
We are often asked to help to confirm quantities for clients and our clients have advised us that when using traditional methods to record volumes the final figures tend to differ. Hired in contractors have stated what they have recorded the volume to be, but what was actually recorded over their weighbridge showed varying discrepancies from the area that was blasted and multiplied by the already known density factor of their whinn stone, this showed discrepancies of between 20—25%.
After conducting our aerial survey of various stockpiles and the blast hole at the quarry all within one site visit, we achieved 98-99% accuracy based on the volumes we calculated multiplied by the density factor to provide volumes in tonnes that was recorded over their weighbridge. from one of the blast holes, we were able to confirm that approximately 4000m3 had already been removed, this was confirmed by the client.
Provided that the perimeter of any stockpile materials are clearly visible from the air, we can easily calculate accurate volumes for the following materials: Biomass products, such as wood, wood chips, tree trunks, paper, pulp, mulch, bark mulch, compost and manure. Construction materials: stone, rock, clay, topsoil, subsoils, sands, gravels, asphalt, concrete. Recycling materials, such as waste paper, recycled gravel, compost, trash, plastics, mixed materials from building sites and residual waste.
Stone Stockpile Volumes
Volumes calculated in m3 for each pile, then multiplied by their density factor and confirmed by the weigh bridge before leaving the quarry.
S.U.D.S Pond
Volume calculated so no soil was removed from site.
Landfill / Reinstatement Materials
Volume calculated to allow client to monitor
the amount of fill required to complete the
reinstatement works