Point Clouds
Professionally generated drone point clouds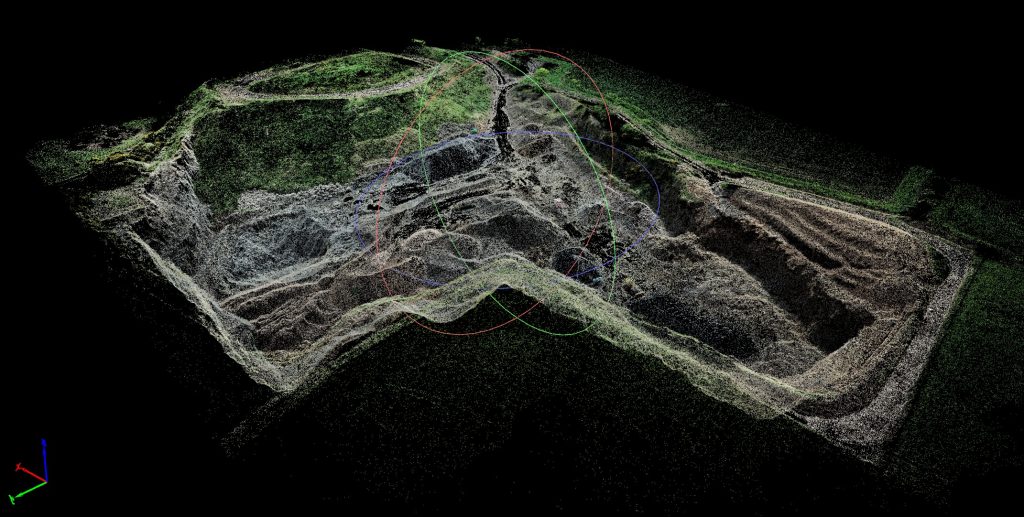 We capture aerial images using our RTK enterprise drones, these images are then processed using our cutting edge photogrammetry software to create a 'cloud' of hundreds of thousands (sometimes hundreds of millions) of individual data points, these points are then coloured and georeferenced so that they can be used in land surveys, 3d visualisations, distance measurement, area calculations, volume calculations and so much more.
The 3d point cloud is the heart of the aerial survey, everything we do is derived from these data points. Our point clouds are corrected using Ground Control Points (GCPs) which we collect while on site using our surveying equipment.
Point clouds can be converted into a polygon or triangulated meshes and used within CAD through a surface reconstruction process.
From our point cloud models we have been able to 3D print physical models of buildings and landscapes, these then have their features painted to match the Orthomosaic photo produced from the point cloud processing to provide clients with a life like model to use within meetings or presentations.
As a package for our development clients, our point cloud is used to provide 3D visualisations of the site layout, buildings, infrastructure, soft and hard landscaping.
Providing various output files such as. .las – .laz – .csv – .dxf – .dwg – .pdf and more.