Cut and fill
Using point clouds to calculate volumes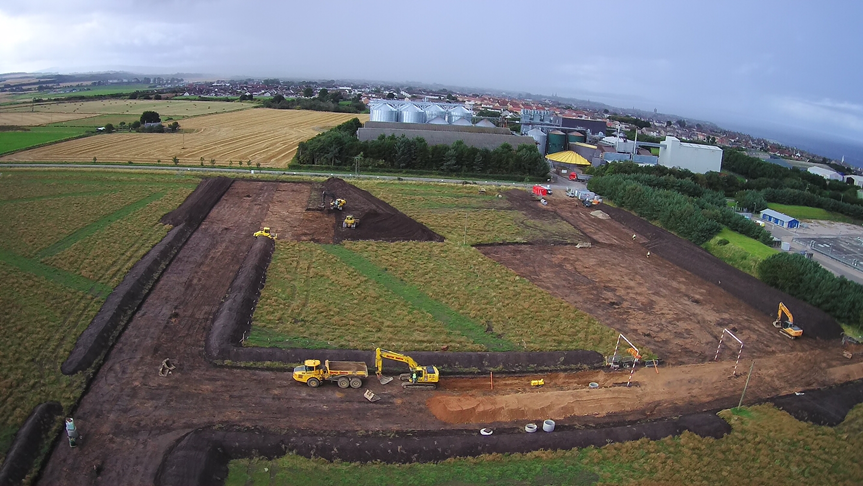 We can use the point cloud from our aerial surveys to create a triangulated mesh, this is then run through n4ce software to provide cut and fill volumes for a proposed site design. By using our aerial survey we can be sure that the volumes provided are of the highest accuracy due to the sheer amount of data captured during a survey. Using our professional surveying equipment as well as our enterprise drones, equipped with RTK and recording many ground control points, we can be sure that our ground data is accurate – in turn provide certainty with accurate volumes calculations. Due to the nature of the unknown with excavations and groundworks, Cut and fill calculations ensures you don't waste money on excess raw material by calculating where material can be cut from one location and used to fill another area. projects can become costly if useable subsoil is removed from site and fresh materials are brought in to site
Value Engineering – having a balance – a processed point cloud at the pre-construction stage allows site engineers to set their cut and fill levels accurately to suit CBR and capping depths, allowing the movement of material to be minimal and more cost effective to the over all budget of the groundworks phase.
Tendering for Cut & Fill – a data set from an aerial survey can provide detailed cut and fill information, help estimators put together more accurate tenders, providing more certainty and alleviating any unnecessary movement of materials within the site.
Any number of site visits to carry out aerial surveys for large sites can be carried out to ensure that material volumes are continually monitored as the site progresses, this will allow site engineers to plan and program material movements within the site to their final locations, minimising their workload and reducing costs. Monitoring the countdown of the volume of material movement, substantiating the volumes of materials will help with interim payments as the works progress, with the volumes being accurately monitored this also helps quantity surveyors monitor costs going forward. Digital Terrain Models can be useful for machine control, DTM's and machine control will eliminate the amount of labour, levelling equipment such as rotating lasers, profile sights that are required to carry out the same onsite tasks resulting in greater productivity and a cost saving to the overall site budget.